Featured Conference!

August 29, 2014 - Nashville, Tennessee
Autism and Asperger's Syndrome Conference Featuring:
Temple Grandin, Eustacia Cutler, and Dr. Jim Ball!

Click for Conference Details and to Register Online.

Please call 1-800-489-0727 to register by phone.

Happy Birthday, Temple!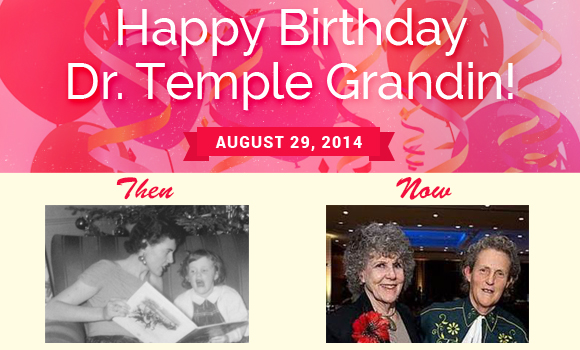 The response to our request for specific instances where Dr. Temple Grandin has changed your life was overwhelming.  For that reason, we are only able to post a few wishes here.  Please check back in a couple of weeks to see more examples of how Temple has inspired and changed lives for the better.
"I was inspired as I watched the movie "Temple Grandin".  As an educator, it made me re-think how I relate and interact with students.  Thank you for the new perspective.  You are an inspiration to me.  Happy Birthday!"
~Tracy
"Just to say "Hello" to Temple and wish her an early Happy Birthday.  Thanks so much for all of your wonderful work with animals from your friend with all the horses in Yoder, CO."
~Diane
"Dr. Grandin is a great soul of inspiration to me as an animal lover and an educator in the field of severe autism.  Meeting her was one of the most memorable experiences of my life.  Thank you for all you do, and Happy Birthday, Dr. Grandin!"
~Kristina
"My entire life I knew I was different and socially awkward and I always felt there was something terribly wrong with me.  My mother has always encouraged me to keep my differences a secret and not tell anybody I have Asperger's.  However, I have told a few co-workers and friends. In my personal and professional life I dedicate myself to breaking down barriers and affirming a sense of dignity and pride; not only being who we are as people but also to fully utilizing our talents.  Thank you, brave, Temple!"
~Jane
"During my first year as a Special Education Director in a rural school district, I was fortunate enough to have professionals in my district recommend that I attend a two-day training on autism and Asperger's disorder, which happened to feature Dr. Temple Grandin. Listening to Temple and having no former familiarity with Asperger's, I was able to quickly identify several students whose difficulties and frustrations in school might stem from this disorder.  Since that time, my interest and my ability to help children, teachers and families understand the spectrum has grown tremendously!  Thank you, Temple, for your inspiration!"
~Pam
"I cannot thank you enough for all the guidance you have given to me and my family.  I have all of your books, hard copy and audio!  My daughter and I follow your footsteps with all your knowledge.  It has been instrumental in understanding, coping and delivering to my granddaughter a better life for now and the future.  God Bless you, Dr. Grandin, for giving us strength to become a better mother and grandmother.  Thanks to you, my granddaughter will now have a bright future.  You are a Godsend to us all!  Thank you so very much for all you do! Happy Birthday!"
~Janet
"Happy Birthday, Temple!  As a special education teacher, you r books and life story have given me so many tools and strategies to teaching and helping ALL my students, not just my students with autism.  As a parent to a child with autism, you have given me the greatest gift of all.  Hope.  Hope that my son and will grow up to lead a successful life. You are truly an inspiration to everyone who has a child with autism and to the people who work with those children.  God Bless you and thank you!"
~Darcy
:"I was able to meet Temple Grandin at a local ASA annual meeting in the early 2000's.  My son had been recently diagnosed with autism and I was struggling to understand what that meant for him as well as for my family.  Listening to Temple was an eye opening experience.  Here was a successful business woman, college graduate, educating other, speaking in a room full of people and sharing of herself with the world.  What better inspiration to a Mom could there be?"
~Robin
"My husband took our twin daughters both who has Asperger's, to meet Dr. Grandin at a conference in Kansas City.  We thought we would only be able to meet her and shake her hand, but she spent 30 minutes talking with our girls.  I am sure it made her late for her next lecture, but she did not care because taking time to talk to them was important to her.  They were both 17 at the time.  They were excited to meet her because they did not know many girls like them.  Because of Dr. Grandin's words to them that day and because of her influence in their lives, they are both heading off to college on August 13th!  Thank you, Temple for being a female role model to my girls."
~Jaimee
"As a mother of a young man with severe autism, I can say your work and life have opened my mind to understanding better what is happening in my non-verbal son's mind.  Throughout my years of work at the Venezuelan Society for Autistic Children and Adults, our founder and pioneer, Dr. Lilia Negron was aware of your life.  She always quoted you and even had me translate your writings for the parents in our center for diagnosis and treatment.  All the best to you on this new birthday!  We celebrate it, too!"
~Maria
"Happy Birth Day to You!!  After reading several of your books, on animals and autism, I decided to purchase my son 4 baby chickens.  My son has learned more social skills be feeding, caring and loving his chickens than any other modern therapy.  The chickens have actually helped my son be more social, learn responsibility of caring for an animal and he has even taught them to give hugs. I'm so glad I found tour books as you opened up my eyes and heart to the world of autism for me and allowed me to understand my son's world.  Thank you!"
~Sherri
"Dear Temple, today I happened to read Oliver Sack's chapter about you in his book.  I was very happy to learn that you exist.  I found your insights into autism very useful and your defense of livestock's wellbeing absolutely necessary.  Thank you for providing solutions.  People like you make the world a better place!"
~Daniela
"Your writing is helping us understand our grandson.  Happy Birthday!  Know that you are helping so many people."
~Paula
:"Thank you for all your hard work and research and innovation in to autism.  You are a true inspiration.  We have started a group in Ireland to support our children and we all admire you so much!"
~Alicia
"Thank you for demonstrating that a person with autism can live a fulfilling, productive life.  Reading your books reinforced our belief that autism was an explanation for difficulties not an excuse to opt out of life.  Happy Birthday!"
~Margaret
"Temple Grandin inspired me to look outside computer sciences and academia to find a niche in the world doing a job I love in spite of having Asperger's.  I have been a massage therapist for three years now.  I even started and run my own rather successful business!  I don't think I ever would have persevered in the face of adversity if it weren't for Temple's advocacy.  She continues to give me hope.  Happy Birthday, Temple!"
~Kate
"I remember the first autism conference I went to.  Temple Grandin was the first person I met who could explain to me why my son was doing things he was doing.  I can still visualize her pointing her finger and saying, "Never allow or accept bad behavior from these kids".  My son had huge meltdowns.  After getting them under control he has learned how to regulate his emotions and understands aggressive behavior will not be tolerated.  The phrase that keeps him in check is "Keep calm and carry on".  He is now 19 and works at the Great Lakes Naval Base.  Thank you, Temple!"
~Lisa
"My name is Grace and I'm 15.  When I found out I had autism I thought there was something wrong with me and my disability was going to hold me back.  I am a girl with Autism so I felt pretty isolated and misunderstood.  When I met Dr. Grandin I discovered I was still myself but made me special just had a name.  I listened to Dr. Grandin and I started an Autism Awareness campaign in my school.  Dr. Grandin gave me the tools and the confidence to advocate as she does. My dad learned about learned about Autism from her and understands what makes me special.  He has even attended therapy with me.  She has really changed my life and I now know myself better.  Thank you, Dr. Grandin!"
~Grace
"My name is Grace and I'm 15.  When I found out I had autism I thought there was something wrong with me and my disability was going to hold me back.  I am a girl with Autism so I felt pretty isolated and misunderstood.  When I met Dr. Grandin I discovered I was still myself but made me special just had a name.  I listened to Dr. Grandin and I started an Autism Awareness campaign in my school.  Dr. Grandin gave me the tools and the confidence to advocate as she does. My dad learned about learned about Autism from her and understands what makes me special.  He has even attended therapy with me.  She has really changed my life and I now know myself better.  Thank you, Dr. Grandin!"
~Grace
Lisa sums it up best with her submission:
"Dr. Grandin you are my mentor.  When doctors gave me a scripted speech, you gave me insight.  When doctors told me everything my son was NOT going to be able to accomplish, you showed me nothing was impossible. You helped me understand my son and for that I will always be grateful.  Your mother taught me to never give up.  Life is challenging but a mother's love always shines.  Temple, I wish you all the happiness and blessings God has in store for you.  You are the blessing to every mother who has a child with autism.  I know we have never met, but I feel like you are my family and I love you!"
~Lisa
Thank you, Temple for your selfless acts that have changed so many lives, we all wish you a very, Happy Birthday!
Stumbling Blocks for the Autistic -
Often Conceptions rather than Ability.
If algebra had been a required course for college graduation in 1967, there would be no Temple Grandin.

At least, no Temple Grandin as the world knows her today: professor, inventor, best-selling author and rock star in the seemingly divergent fields of animal science and autism education.

"I probably would have been a handyman, fixing toilets at some apartment building somewhere," said Grandin, 66. "I can't do algebra. It makes no sense. Why does algebra have to be the gateway to all the other mathematics?"

The abstract concepts in algebra present a common stumbling block for many with an autism spectrum disorder, which affects an estimated 1 in 88 American children according to the Centers for Disease Control and Prevention. For autistic and "photo-realistic visual thinkers" such as Grandin, understanding comes from being able to see and work through a concept in images, creating what is in effect a virtual reality program that plays out in the brain. In this manner, Grandin - who didn't speak until she was almost 4 - conceptualized down to minute details her design for a humane livestock restraint system now used on nearly half of the cattle in the U.S.

Fortunately, the academic trend in the late 1960s was finite math, a course Grandin passed with the help of tutors and devoted study, satisfying her college math requirement. She went on to earn a bachelor's degree in psychology and both masters and doctoral degrees in animal science. For the past two decades, she's been a professor at Colorado State University.

"I was lucky. Very, very, very lucky," said Grandin, who's widely described as the most well-known person with autism in the world. With appearances on NBC's "Today" show and "Larry King Live," plus an Emmy-winning 2010 HBO docudrama based on her life, there's no arguing she's become something of a pop-culture icon.

The problem with labels.

As the number of children diagnosed with autism continues to rise nationally, Grandin is sharing her message about the disorder and "differently-abled brains" with packed houses. At the heart of that message is this: Rigid academic and social expectations could wind up stifling a mind that - while it might struggle to conjugate a verb - could one day take us to distant stars.

"Parents get so worried about the deficits that they don't build up the strengths, but those skills could turn into a job," said Grandin, who addresses scientific advances in understanding autism in her newest book, "The Autistic Brain: Thinking Across the Spectrum." "These kids often have uneven skills. We need to be a lot more flexible about things. Don't hold these math geniuses back. You're going to have to give them special ed in reading because that tends to be the pattern, but let them go ahead in math."

Early diagnosis can lead to early intervention and access to special education programs, and, while crucial for children with severe autism, also means a permanent label that ultimately could impede progress - and the healthy development of a child's identity.

"One of the problems today is for a kid to get any special services in school, they have to have a label. The problem with autism is you've got a spectrum that goes from Einstein down to someone with no language," said Grandin, who has a form of high-functioning autism known as Asperger's syndrome. "Steve Jobs was probably mildly on the autistic spectrum. Basically, you've probably known people who were geeky and socially awkward but very smart. When does geeks and nerds become autism? That's a gray area. Half the people in Silicon Valley probably have autism."

Lacking life skills.

A label also can impact parental expectations, a major source of therapeutic momentum. A parent with a diagnosed autistic child might be reluctant to teach practical, social skills that are outside the child's comfort zone, such as ordering food at a lunch counter.

"It hurts because they don't have enough expectations for the kids. I see too many kids who are smart who've graduated, but they're not getting a job because when they were young they didn't learn any work skills," Grandin said. "They've got no life skills. The parent thinks, 'Oh, poor Tommy, he has autism so he doesn't have to learn things like shopping.'"

Grandin was raised by her mother in the 1950s, a time when social skills were "pounded into every single child," she said.

"Children in my generation when they were teenagers they had jobs and learned how to work. I cleaned horse stalls," she said. "When I was 8 years old, my mother made me be a party hostess - shake hands, take coats. In the 1950s, social skills were taught in a much more rigid way so kids who were mildly autistic were forced to learn them. It hurts the autistic much more than it does the normal kids to not have these skills formally taught."

Erstwhile jobs such as neighborhood newspaper routes were perfect opportunities for children with autism to learn responsibility and how to function in the real world.

"I wish we still had them because they forced these children to interact with people," Grandin said.

The skills that people with autism bring to the table should be nurtured, for their benefit and society's, Grandin said. And if a cure for autism were found, she would choose to stay just the way she is.

"I like the really logical way that I think. I'm totally logical. In fact, it kind of blows my mind how irrational human beings are," she said. "If you totally got rid of autism, you'd have nobody to fix your computer in the future."

Autism facts.

- 1 in 88 U.S. children has been identified with an autism spectrum disorder (ASD).
- 1 in 85 Colorado children is affected by the disorder.
- The national estimated prevalence of ASDs increased 78 percent between 2002 and 2008.
- ASDs were found to affect almost five times as many boys as girls.
- The majority (62 percent) of children with ASDs did not have intellectual disabilities.

Temple Speaks Out on Sensory Issues!
"I have been talking and writing about sensory problems for over 20 years, and am still perplexed by many people who do not acknowledge sensory issues and the pain and discomfort they can cause. A person doesn't have to be on the autism spectrum to be affected by sensory issues."
-Dr Temple Grandin, The Way I See It
For more information on sensory issues, please go to www.sensoryworld.com.
About Temple Grandin
Dr. Grandin didn't talk until she was three and a half years old, communicating her frustration instead by screaming, peeping, and humming. In 1950, she was diagnosed with autism and her parents were told she should be institutionalized. She tells her story of "groping her way from the far side of darkness" in her book Emergence: Labeled Autistic, a book which stunned the world because, until its publication, most professionals and parents assumed that an autism diagnosis was virtually a death sentence to achievement or productivity in life.
Dr. Grandin has become a prominent author and speaker on the subject of autism because "I have read enough to know that there are still many parents, and yes, professionals too, who believe that 'once autistic, always autistic.' This dictum has meant sad and sorry lives for many children diagnosed, as I was in early life, as autistic. To these people, it is incomprehensible that the characteristics of autism can be modified and controlled. However, I feel strongly that I am living proof that they can" (from Emergence: Labeled Autistic).
Even though she was considered "weird" in her young school years, she eventually found a mentor, who recognized her interests and abilities. Dr. Grandin later developed her talents into a successful career as a livestock-handling equipment designer, one of very few in the world. She has now designed the facilities in which half the cattle are handled in the United States, consulting for firms such as Burger King, McDonald's, Swift, and others.
Temple Grandin, Ph.D., is now the most accomplished and well-known adult with autism in the world. Her fascinating life, with all its challenges and successes has been brought to the screen. She has been featured on NPR (National Public Radio), major television programs, such as the BBC special "The Woman Who Thinks Like a Cow", ABC's Primetime Live, The Today Show, Larry King Live, 48 Hours and 20/20, and has been written about in many national publications, such as Time magazine, People magazine, Forbes, U.S. News and World Report, and New York Times.. Among numerous other recognitions by media, Bravo Cable did a half-hour show on her life, and she was featured in the best-selling book, Anthropologist from Mars.
Dr. Grandin presently works as a Professor of Animal Science at Colorado State University. She also speaks around the world on both autism and cattle handling. At every Future Horizons conference on autism, the audience rates her presentation as 10+.
Dr. Grandin's current bestselling book on autism is The Way I See It: A Personal Look at Autism and Asperger's. She also authored Unwritten Rules of Social Relationships, Animals Make us Human, Animals in Translation, Thinking in Pictures, Emergence: Labeled Autistic and produced several DVDs. All books and DVD's available through Future Horizons.
Temple Grandin's work continues to inspire millions, drawing superlative reviews such as these:
"Temple is my hero. She has my vote for the person who has provided the greatest advance in our understanding of autism this century."
-Dr. Tony Attwood, world renowned expert on autism spectrum disorders.
---
On The Way I See It:
"Every library, large or small, needs this book on its shelves. Every school, large or small, with the responsibility of educating children with autism or Asperger's needs the guidance this book offers. . . . Last, and certainly not least, every parent will find within these pages golden nuggets of advice, encouragement, and hope to fuel their day-to-day journey through their child's autism. . . . The wisdom she offers through this book and its personal reflections on autism will, I'm sure, ring true for many more decades to come."
-Ruth Christ Sullivan, first elected president of the Autism Society of America
---
On Unwritten Rules of Social Relationships:
"I wish I had this book when Sean was a child. It would have helped me understand Sean so much more."
-Judy Barron, mother of author Sean Barron and co-author of There's A Boy In Here
"If you've ever wondered, 'What is going through my child's mind? Why can't he get social interactions?' then this book is for you! 'A-ha!' moments abound."
-Veronica Zysk, managing editor of award-winning Autism Asperger's Digest